CRAFTSMANSHIP
Deuce: Creating Sneakers with a Difference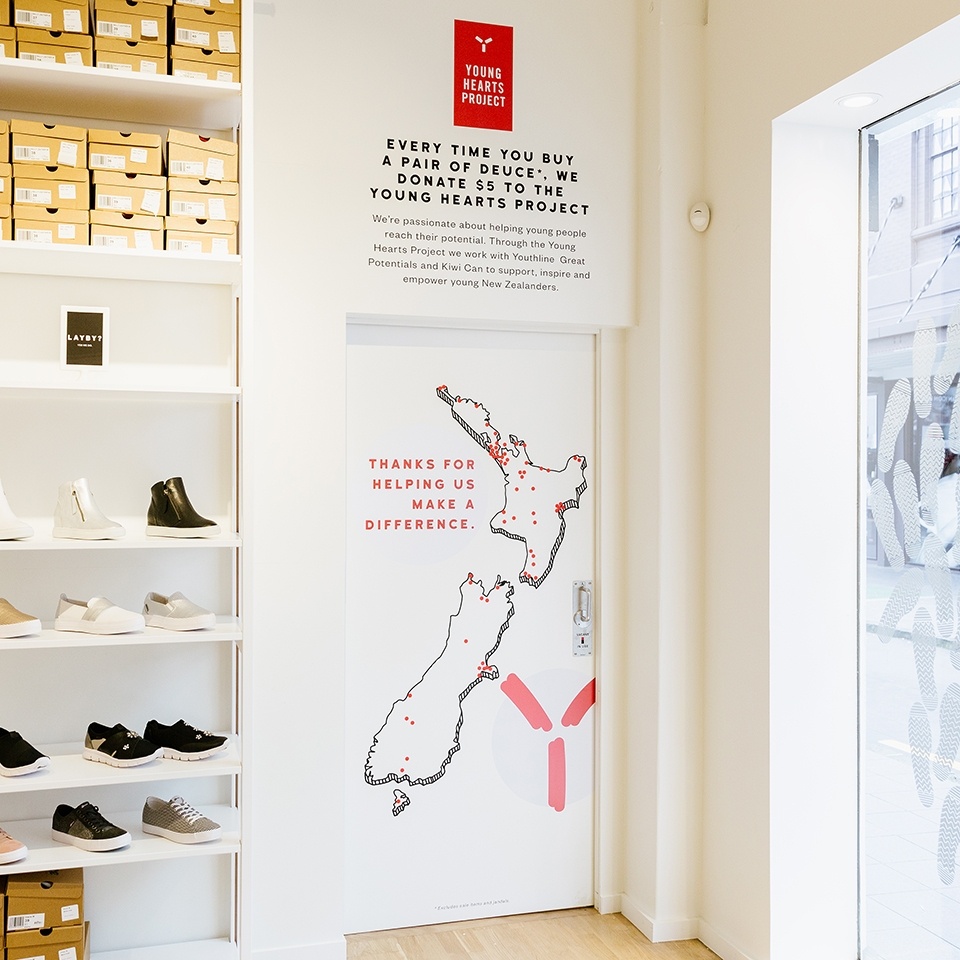 A difference you can feel.
Our constant goal with Deuce? What we can do differently. At the very heart of Deuce (and the whole reason we started) was a desire to create sneakers that felt as good as they look. Everyone who tries on our sneakers can feel the difference, however they don't always know why. Before we launched Deuce, we were frustrated that traditional canvas sneakers provided barely any arch support – so while they looked cool, your feet ached after spending a day in them. On top of that, they seemed to absorb odour. Eventually, we couldn't take the stink anymore, so we launched Deuce. Our goal was to give canvas sneakers what we thought they lacked: freshness and support. To achieve this, we developed our own signature footbeds. The dual-density cushioning and targeted support draws technology from athletic sports shoes and provides unparalleled comfort. Naming them was the easy part: DualCore. We also wanted to combat odour, so in addition to making our signature footbeds moisture-wicking, we also got our hands on an anti-microbial treatment called UltraFresh that kills bacteria. Right from the beginning, support and freshness have been what set us apart.
Evolving our design.
However, it wasn't enough that our shoes felt different. We wanted them to look different too. We've been in the footwear business for a long time (since 1948 in fact) so we know there's only one way to achieve this, and that's to design in house. You might have noticed we've been evolving our range – using premium leathers and detailing, and reinventing some old favourites. We're so proud of our design process, and it's a key part of the Deuce brand. We're investing more and more time into this and growing our team (read about Jordan's journey on page 20) as we elevate our product. As a New Zealand brand, it's important that we're reflecting our customers' needs and wants. Lifestyles are changing and lines are more blurred than ever, so we wanted to reflect this more in our range. Our design teams have worked together to ensure cohesion across our Deuce sneakers and the rest of our footwear range; that's why you'll now find rose gold leather on heels, flats AND sneakers too.
Opening our own factory
To realise this change, we've spent years developing our own factory. Having our own footwear manufacturing means we have true control over our designs and can adapt quickly. Running a factory in China has been a huge learning curve. From language barriers, to cultural differences, to ensuring the quality of our workplace and product is as high as possible –it's all taken blood, sweat and tears. Our designers fly to China regularly to oversee our manufacturing and work alongside our team. We see every hurdle as the opportunity to learn more.
Making a difference too.
Since day one, Deuce has always been about support. But Shane Anselmi felt that our support could go further; what could support truly mean? Shane's concern was triggered by the high youth suicide rate and other issues facing New Zealand youth; he felt he'd finally found his cause. So he set up the Young Hearts Project, a charity initiative driven by (and integral to) our Deuce brand, and pledged to donate $5 from every single pair of full priced sneakers sold. But raising money is just part of the puzzle; we had to make sure it was going to the right places. How could we inspire, support and empower young Kiwis? Who could we partner with to do that?
The Young Hearts Project provides support in two ways. Firstly, we partnered with Youthline who are a vital resource and a literal lifeline for young people who need help and advice. Our funding also runs their free mobile health centre, something we're incredibly proud of. Our other avenue for empowering young New Zealanders is by partnering with Great Potentials who work in low-income communities to help children, young people and families to ourish. The Young Hearts Project helps fund their MATES Junior programme that mentors Intermediate aged children who are at risk of not transitioning to High School and falling through the cracks. Through one-to-one mentoring and group workshops, they receive not only vital tutoring and guidance, but also the chance to build trusting relationships
.
Since 2014, we've now raised over $1,000,000 for the Young Hearts Project through sales of Deuce sneakers. By partnering with groups who provide support for young people in an empowering way, the Young Hearts Project is realising change, investing their future and that of New Zealand itself.