FASHION
Makaia's Top Picks for Summer
With summer fast approaching, we asked businesswoman, social media influencer and style icon, Makaia Carr, to show us her top five style picks for the new season and tell us why she chose them:
Feeling confident in your footwear is something I am a big believer in, especially when it comes to a long, hot summer of events, parties, family get togethers and holidays. When I'm choosing shoes for a new season I want to make sure I am going to be able to wear them to as many different events as possible, with as many different outfits as possible, without them dating or becoming uncomfortable. With this in mind, I have chosen my top five picks for this season from Merchant 1948's spring summer collection: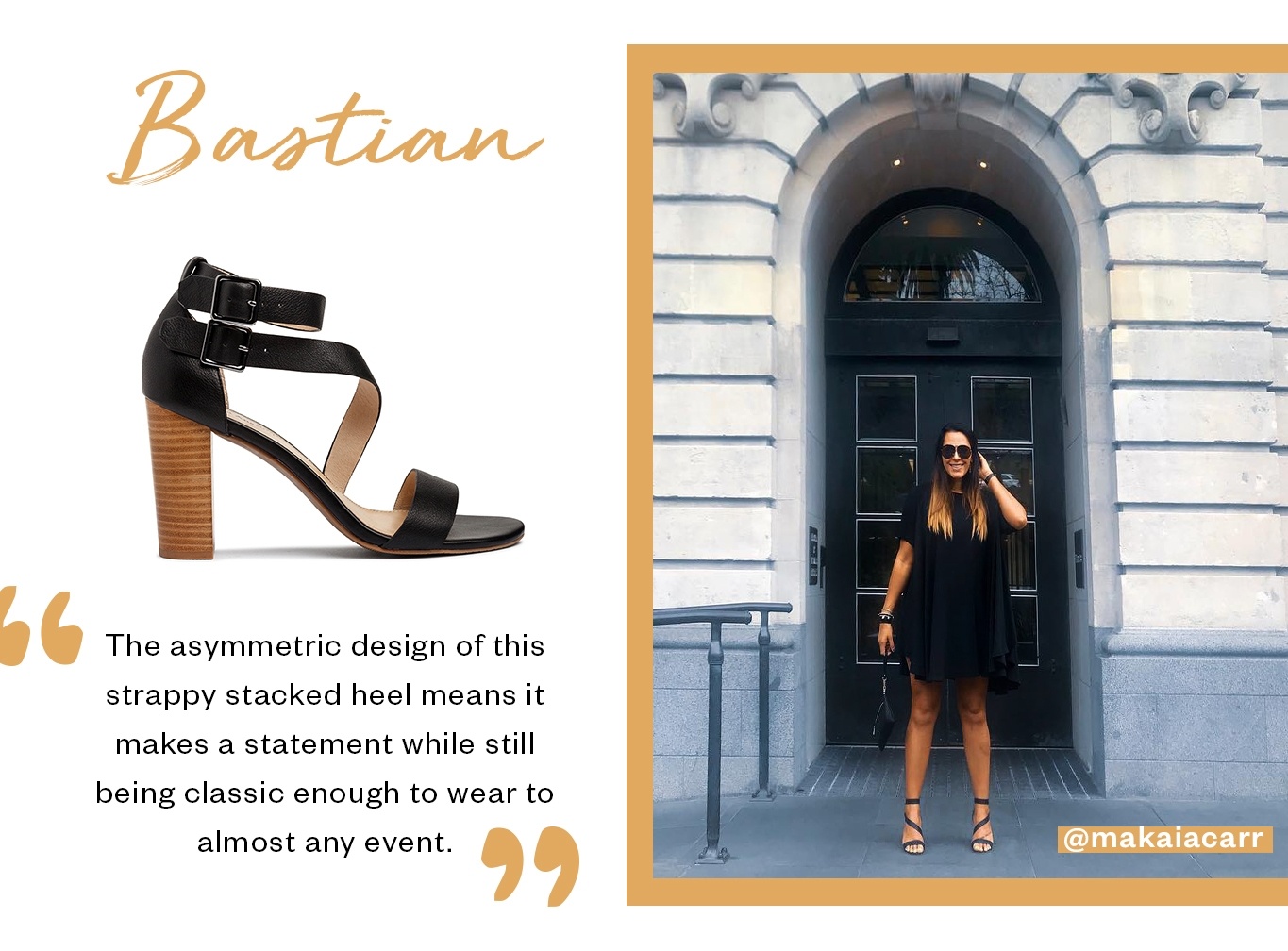 The asymmetric design of this strappy stacked heel means it makes a statement while still being classic enough to wear to almost any event. Although the heel height is still a decent nine centimetres, the block construction means that it is super comfortable, while the ankle strap offers added support. I chose Bastion in timeless black, but it's also available in baby pink – perfect for wearing with floral dresses and light coloured jeans all summer long. So far, I've paired my Bastion heels with a floaty Little Black Dress but I'm looking forward to wearing them pared back with skinny jeans and a tee or shirt for more dressed down occasions.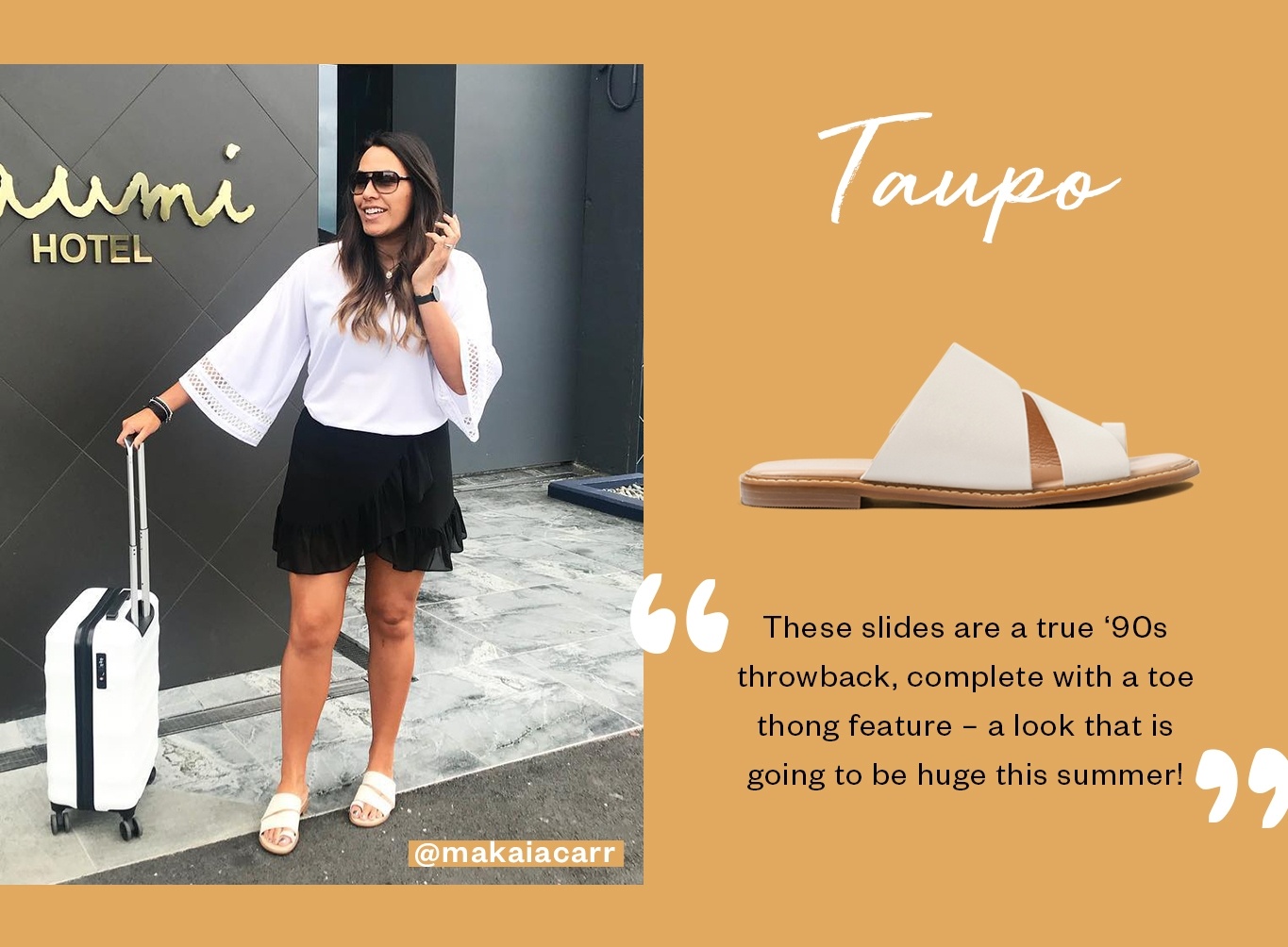 Another one from the asymmetric collection, Taupo is the perfect balance of smart and casual. This bone coloured slide is equally at home by the pool as it is at Sunday brunch. Pair it with a summer dress and kimono or shorts and a crisp white blouse like I did on a recent 'staycation' in Auckland. These slides are a true '90s throwback, complete with a toe thong feature – a look that is going to be huge this summer! For a variation on this style, opt for black and pair it with your favourite denim.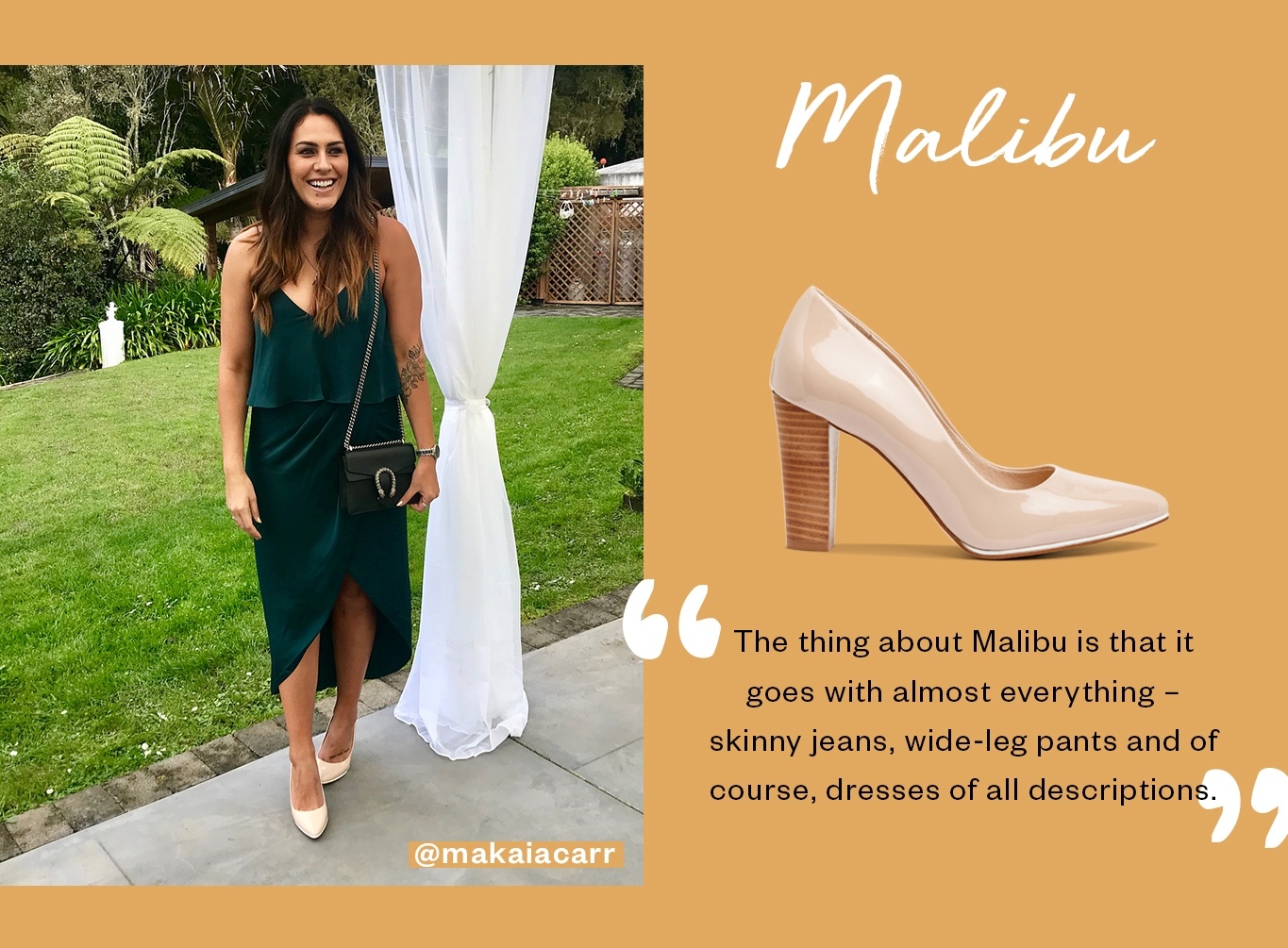 This shoe is one of Merchant's most popular styles – and it's not hard to see why! In fact, Malibu is so loved it's now available in a variety of different colours! Whether you're a fan of orange, red, dusty pink or classic black, there's a Malibu for you. I went for the timeless, easy-to-wear nude coloured Malibu and I have been wearing it everywhere! The thing about Malibu is that it goes with almost everything – skinny jeans, wide-leg pants and of course, dresses of all descriptions. Colour wise, nude is perfect for pairing with not only denim and block colours but patterns and prints too. Which Malibu colour will you choose for summer?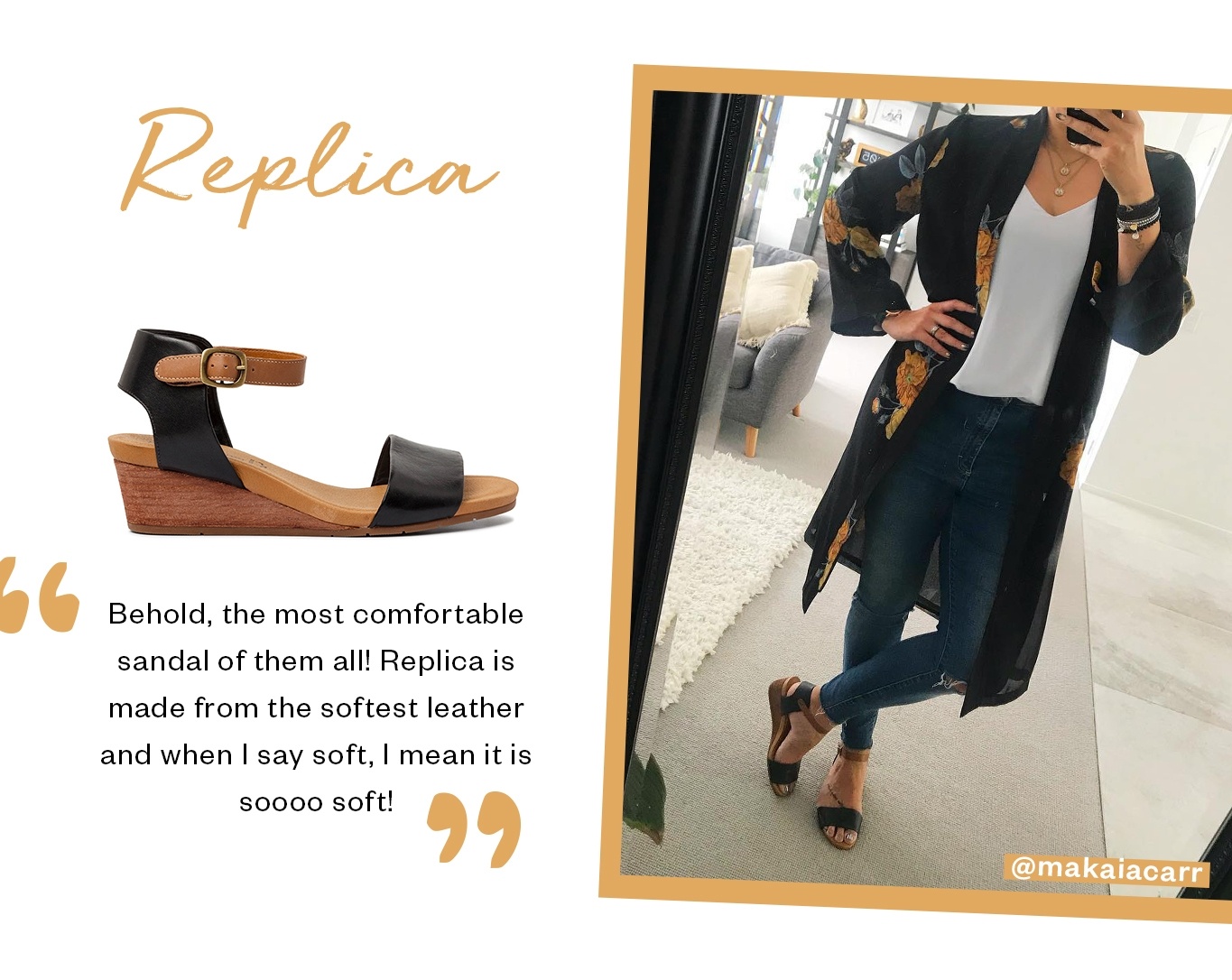 Behold, the most comfortable sandal of them all! Replica is made from the softest leather and when I say soft, I mean it is soooo soft! All the way from Brazil, this simple style exudes that laid back vibe South America is so famous for, while still being smart enough to wear to an event or party. A slight wedge heel elevates this style, making it the perfect day-to-night sandal – perfect for those long lunches that spill over into the evening! Replica's two-tone tan and black leather adds a subtle statement to your favourite look – I've been wearing mine with jeans and tees and throwing on a printed kimono for a more dressed up look.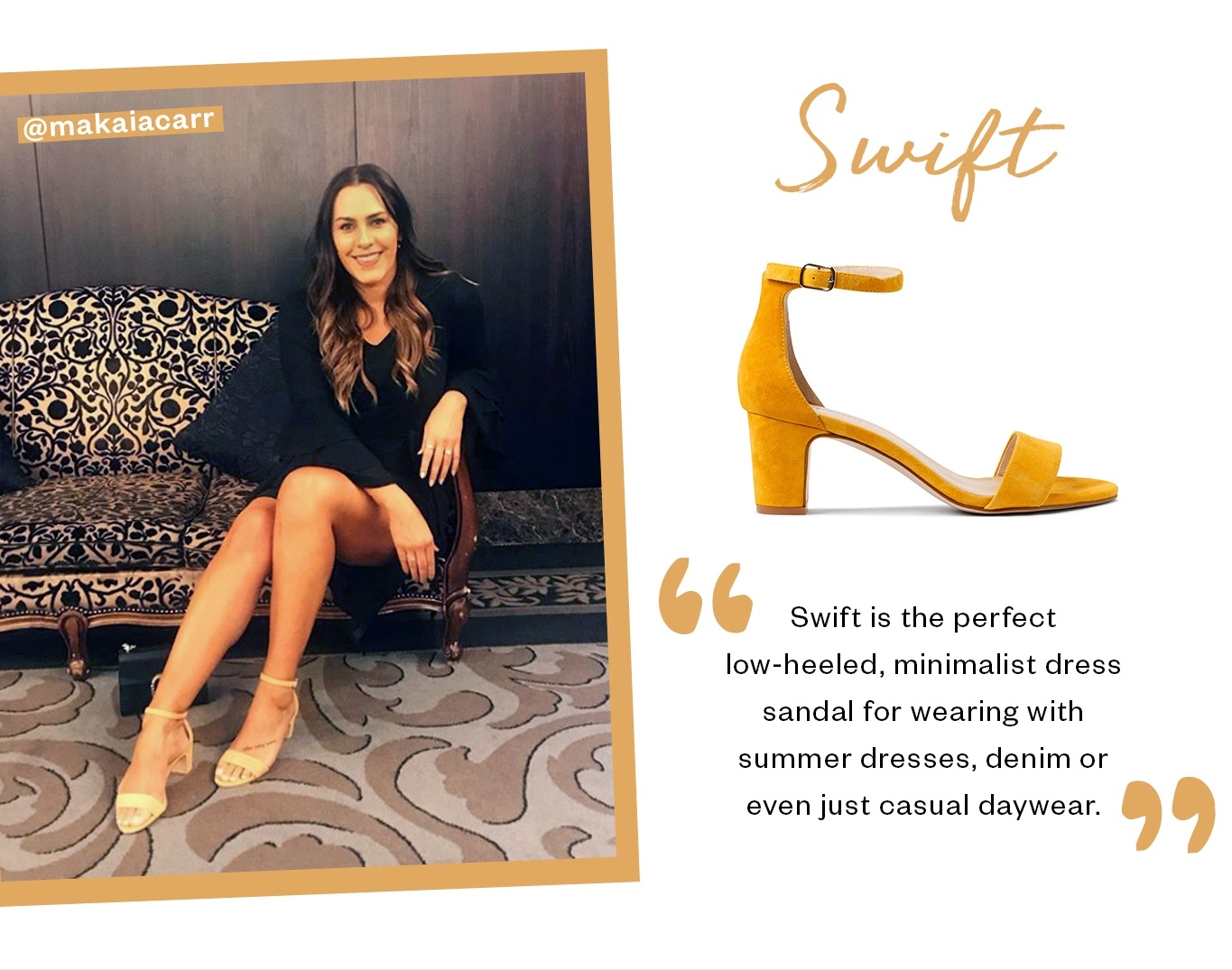 Swift is an absolute favourite of mine! I know it's not officially summer just yet, but I am wearing this sandal as often as I can, with all of my favourite looks. Swift is the perfect low-heeled, minimalist dress sandal for wearing with summer dresses, denim or even just casual daywear. I believe comfort should never get in the way of style, which is why a shoe like Swift is an absolute must-have for my wardrobe.
Love Makaia's top picks for summer? Treat yourself to Clyde, Replica, Malibu, Bastion or Taupo online or in-store this season.